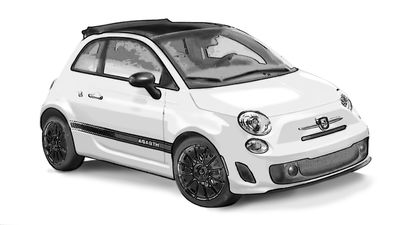 These are our Abarth 500 servicing costs, all services are done exactly in accordance with the manufacturer's servicing schedule. All relevant services also include the price of fitting a cam or timing belt and tensioner.
If you want to book a service with us, simply click on the relevant service and follow the instructions
Prices include VAT and we use Genuine or Original Equipment parts with Selenia oil.
To see the operations involved in servicing go to 'Schedule'
Mileage >
9,000
18,000
27,000
36,000
45,000
54,000
63,000
72,000
81,000
90,000
Service Cost
£179.50
£376.60
£179.50
£376.60
£179.50
£601.30
£179.50
£376.60
£179.50
£376.60
___________________________________________________________________________________________________________

Braking.
Other services
Cambelt replacement
£338.40
Water pump (inc anti freeze) *
£64.35
Thermostat (inc anti freeze)
£82.60
Replace engine oil and oil filter
£118.40
Brake fluid replacement
£57.60
Carry out Air Conditioning Service
£85.50
MOT
£54.85
* Price is for replacing the part wnen having the cam belt changed.

If you require a service price and it is not listed here please use this link jamie@abarthworkshop.co.uk or phone us on 01763 244441
Should you wish to use other specific items (eg Selenia Racing or HPX oils) we can easily use the parts you require and the cost will be adjusted accordingly
Travelling some distance? Visit our Days out in Royston page.