This page: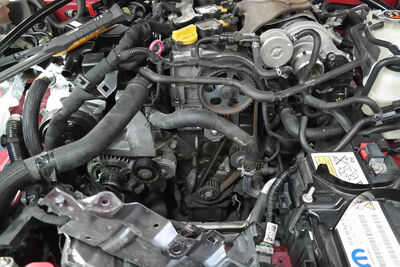 Replacing The Cam Belt And Water Pump On An Abarth 124 (part 2)
Undo the x8 10mm bolts to the engine brace bar bracket at the bulk head and remove the bracket and bar in one.

Unclip the vacuum hose to the brake vacuum pump.

Undo the x3 10mm bolts to the vacuum pump 'cage' bracket.
Separate the wire that runs over the top of the cage and pop out the x2 securing clips for the coil pack wiring loom.

The vacuum pump is held on by x3 T45 (Torx) screws.

Now that the vacuum pump is off the next stage is to lock the end of the camshaft but first the shaft needs to be in the correct position to match the cam locking tool.

As the end of the shaft is so close to the bulk head we use a mirror to see the position of the shaft.

To alter the position, using a long handled 15mm spanner on the end of the crank driven pulley bolt turn the crank clockwise until the camshaft aligns with the tool.
Bolt on the cam lock tool.

The crank driven pulley has a small pin that should line up with the hole in the crank locking tool (it may need a little tweak).
Fit the locking tool as shown in the picture.

Loosen the 18mm cam shaft pulley bolt then undo the 13mm cam belt tensioner nut.
Remove tensioner and cam belt.

Undo the x9 12mm bolts to the metal undertray.

Place a tray underneath the sump where the water pump is to catch leaking coolant.
Undo the x3 10mm bolts and x1 10mm nut to the water pump.
You will have to prise the pump to break the seal.
Clean the old sealant from the face where the water pump is mounted.

Genuine water pumps do not use gaskets so smear gasket sealant around the surface.
Bolt on the new water pump.

Fit the new cam belt and tack the tensioner in place.
Tension the tensioner to the correct setting then tighten up the 13mm nut.
Tighten up the 18mm camshaft pulley bolt.

Top up the coolant tank then disconnect the return hose (at the point in the picture) to release any air locks in the system and top up again if necessary.

When refitting all the parts use a new vacuum pump gasket.
Related Links: Service schedule | Servicing