This page: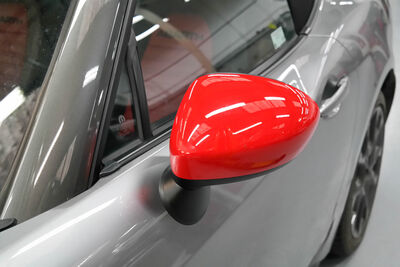 Removing The Wing Mirror On An Abarth 124


A genuine mirror housing doesn't come with the colour coded cap or lens so these will need to be swapped over from the old one if they are still intact.
To access the mounting points on the 124 mirror the door card and inner panel first need removing.
This 'How to' is based on the LEFT side mirror.

LEFT mirror 6000615010
RIGHT mirror 6000615009
(both without blind spot detection)

Workshop time: 1 hour



Using plastic trim removal tools prise of the plastic trim to the interior door release handle.

Undo the Phillips screw.

Prise off the silver trim to the 'pull to' handle...

...there's x2 more Phillips screws.

Work loose the edges of the door card OVER the top of the rubber edging trim.

Once the door card is off unplug the connector to the window switch.

Undo the x6 10mm bolts to the plastic inner cover...

...and release the plastic push clip.

Unplug the pressure impact sensor.

Unclip the wiring harness.

Remove the inner cover.

Unplug the connector to the wing mirror...

...and the one to the speaker.

Undo the x3 10mm bolts to the speaker and remove.

The mirror is held in position by a plastic securing clip, x2 locating pins and x3 10mm bolts.

This is how it looks up inside the door panel.
Undo the x3 10mm bolts.

As you pull the mirror free the prongs on the plastic securing clip will break, this clip is only used to hold the mirror while you tighten the x3 bolts.

The mirror lens is held on by three ball and socket joints, two small outer ones and a larger central one.

If you're keeping the old lens use a plastic trim removal tool to prise it free.
On refitting the lens pop in the larger ball joint first then the outer two one at a time.

To remove the cap you will need to use two tools to free the clips.
Related Links: Servicing